Now you can soon book your place for the online course:
"Certified Earthing Guide"

The course will be published in English shortly. Right now we are working full time to translate the popular course from Swedish to English.
Sign up now for your entry to be the first to get more information and the opportunity to sign up for the course "Certified Earthing Guide". and you will receive a personal message from the founder Lilian Alterskjaer.
Earthing Community – For Natural Self-Healing with laughter, togetherness and creative planning based on lunar forces.
Expand your physical, mental, and spiritual development through inspiring and nourishing time with other like-minded people. 
Now you do not have to feel alone on your journey to thrive in all parts of your life. 
Join our worldwide community for Natural Self-Healing
where the trend of making skin contact with Mother Earth - Grounding, becoming consciously barefoot, will be a tool in focus alongside other tools, for a curious exploration that strengthens your physical, mental, and spiritual development. 
We meet online every new moon. You get to listen to an inspiring lecture, and you get help to set your desired goals for the upcoming lunar cycle. A lunar cycle begins with a new moon, goes through the full moon to the dark moon which is the last day of the lunar cycle before a new lunar cycle begins. 
The new moon is an ideal time to set up intentions and goals that you will develop as the moon grows toward fullness. Putting new intentions and planning according to the lunar cycles gives a sense of direction and togetherness. 
New friends
It is easy to feel alone on your journey of personal development and to go from weak to strong, from sick to healthy. 
Here you get the opportunity to share your experiences, strengths and hopes with other participants. In our Community there is the opportunity to find friends who are interested in the same things as you. At every online meeting, there is the opportunity to exchange thoughts and make new contacts. 
Inspiration
Every month on the day of the new moon, you can participate in our online meeting live with The Barefoot woman – Lilian Alterskjaer. You will also have access to a platform with inspiring films, links, and other in-depth material on grounding, breathing, nutrition and spiritual sources of inspiration. 
All to help you on your way to prosperity. 
Open to anyone with the right intentions! 
You pay 8.3 EUR, 9.8 USD, 85 SEK / month. You can unsubscribe at any time if you wish.
Free E-book: Becoming Consciously Barefoot! 

Release-relief-recharge; learn how electrons from mother earth maintain your health. 
The e-book that gives you a fast-track out of inflammation.

By registering, I also agree to take part in Lilian's newsletter, which I can unsubscribe from at any time.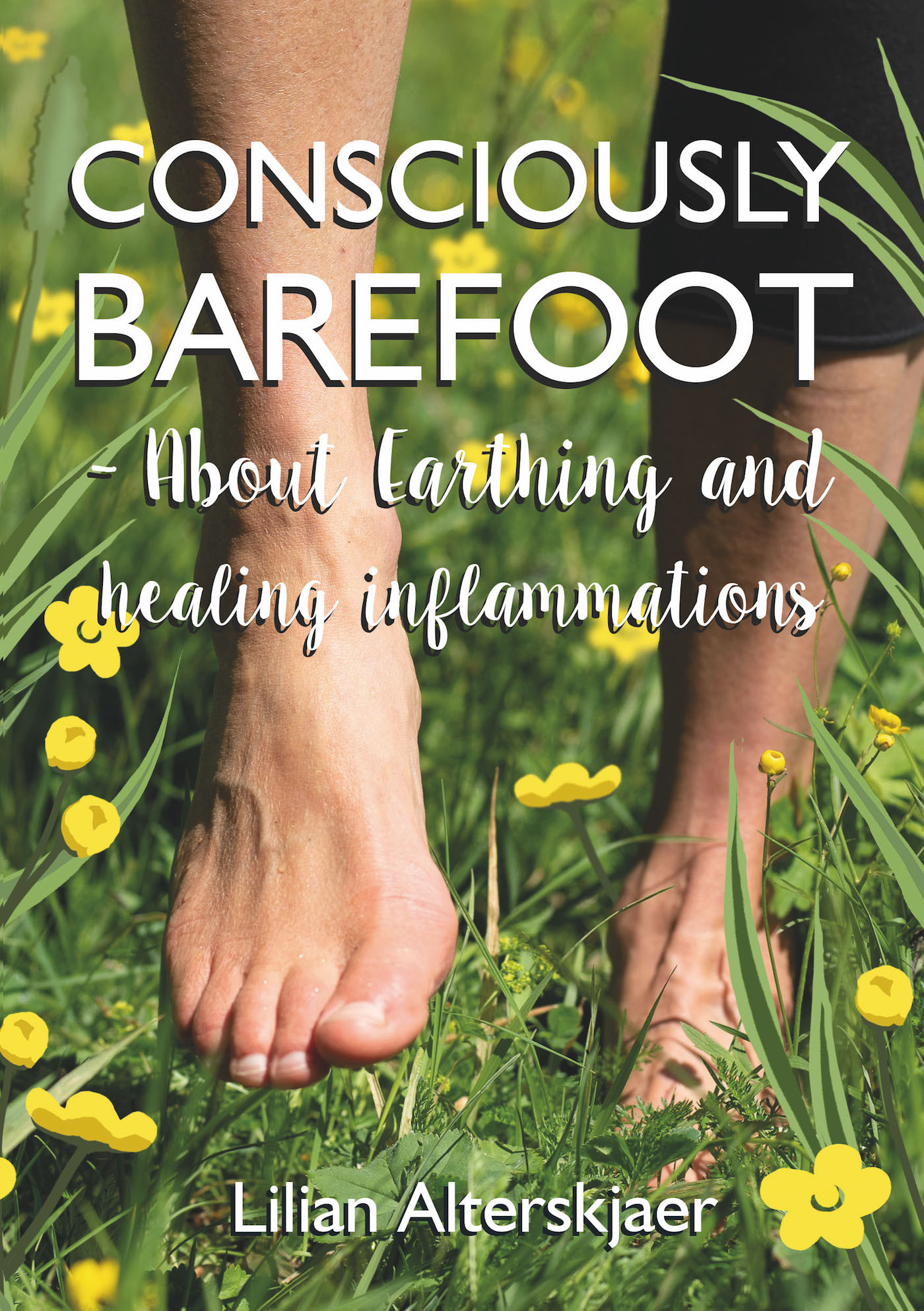 listen to Lilian's speech on HerStory International Women's month USA/Canada Central 26- 28th March
An Online Summit to bring Women globally together on "Making the Impossible Possible."
Meet author Lilian Alterskjaer, known as the barefoot woman, with roots in Northern Sweden and the wild flora and fauna of Lapland, is known as a positive and dedicated source of inspiration for change and development. 
Title of here story: Discover the power of being Consciously Barefoot – and you get the best key in natural self-healing.

Click on the link and listen to Lilian's speech (This is a recording from the event, 17 minutes long)
Listening to Author Lilian Alterskjaer on The Abundance Coaching Institute Show.
Hosted by Resident Expert Carla Trigo , who will be interviewing outstanding guests from different walks of life on her show every Friday at 10:30 AM EDT - 3:30 PM UK.

Carla Trigo, also known as the "Provocative Changemaker" is on a mission to transform the lives of individuals who wish to shift their mindset and live life in a creative and holistic way.

Her guest this week is Author Lilian Alterskjaer.

Lilian is known as the barefoot woman, with roots in Northern Sweden and the wild flora and fauna of Lapland, she is known as a positive and dedicated source of inspiration for change and development.

The imprints she makes on Earth are like kisses in the sky.

Join the conversation this Friday between these two inspiring ladies!

You will be able to watch this show LIVE simultaneously on:
https://www.facebook.com/expertchanneltv
https://www.facebook.com/berkanawomanthegreatwork
https://www.facebook.com/groups/2110191882579943
If you want the
paper book

–

New book conquers the world and makes people healthier.

Did you know that most of today's common diseases, physical and mental, have their root cause in inflammatory conditions?

Can you imagine that contact with the ground, nasal breathing and a splash of Omega-3 oil can help to heal your inflammation?

CONSCIOUSLY BAREFOOT – About Earthing and healing inflammations is a book with new knowledge, research findings and inspiration.

The book includes tools and hands-on advices for natural health and healing.

Buy the paper book here:
This book can be your way to Natural Healing
Do you want to stay healthy or stop cronic inflammations and cronic diseases? This book is for You!
Best regards/
Lilian Alterskjaer Author and Director of Publisher Grön Kärlek (Green Love)
"I was so excited to finally meet Lilian Alterskjaer and listen to her lecture about Grounding/ Earthing =Barefoot Healing and the amazing health benefits. NUTRITION, Keto Diet, Chronic inflammation, pain, weight gain and diseases that comes with that. Or are born out of it!

Of course I bought her book where she also talks about conscious breathing, energy and oxygen.
What impact does the radiation from the electromagnetic fields around us really have on our body and mind.
What is Mitochondrion and what role do they and the cells really play!

"The way YOU feel is how YOUR CELLS feel"

Most of us like science and proof! This was a perfect combination, easy to understand(in Swedish) and plenty of research.

We separate us from mother earth, running around with plastic/ rubber on our feet, working in front of a computer all day hooked into a ungrounded extension or sleeping next to our cellphones (Which by the way….. NONE of our phone chargers are grounded) completely crazy!!

And my friends best of all……
This is completely FREE!!! Just stick your toes down the dirt or the grass, if it's WET….. even better This is simply something that has been forgotten in our culture. Let's bring it back

"A complicated problem doesn't mean a complicated solution"
~René Manuel Medina, kinesiologist

I can warmly recommend this book to EVERYBODY!"

Anna Stillwell

Holistic movement Sweden